Auction Results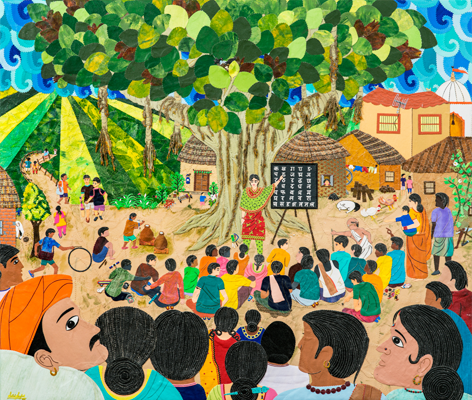 Title of Artwork - "The Learning Tree"
Medium - Canvas Acrylic Collage - Mix Media
Size - 40x47 Inch, 102x122 Cms.
About Artwork - This acrylic canvas collage shows a form of education in rural India, wherein the basic knowledge is imparted to students under a Banyan Tree. The art work is donated to "Pratham" an NGO that works towards imparting education to children below poverty line, all over India.
This artwork is sold for $12000 USD (Twelve Thousand US Dollars) at the auction of PRATHAM Gala Dinner 2016 at Austin, Texas, USA held on 17th September 2016, for the education of underprivileged children in India.
Watch: Fundraising Video of Artwork Auction »
Certificate of Appreciation received from PRATHAM USA »
Read story titled "Sailesh Sanghvi, Artist for a Cause" on PRATHAMUSA.ORG »