About The Author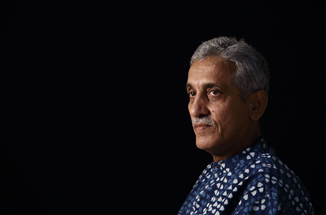 Art has a way of finding place in a thinking individual's life, more so for One who has travelled extensively and been exposed to different cultures over the course of years. Sailesh had an artistic inclination growing up enjoying painting and drawing, but with focus shifting towards career it took a back seat, but was always around. That desire and outlet of expression of emotions through art became an important aspect of his life, his refuge away from the corporate world. What became as an exploration with varied mediums and genres led to a lot of works being generated wherein he tried to find his own Self.
This journey of self discovery led to creation of works which he shared with close friends and family, who felt he needed to share it with a wider audience. Sailesh also started following the art world closely within India and other countries, and exhibited his works privately and selectively in group shows as if testing waters.
Sailesh enjoys working with children and participating along with them in conducting workshops and group shows to encourage art.
Sailesh Sanghvi paints for Art for a Cause. He is always willing to donate his art works for a cause.
Sailesh Sanghvi was born in year 1953, at Delh, India.
After a fulfilling career as a successful businessman Sailesh Sanghvi, took a decision to develop and expand his artistic talents. He has been drawing and painting since his school days; but due to the heavy demands of his professional work, he was not able to explore his creativity, as he wished. Now as a retired businessman, he has focused himself on his art-practice. To explore his passion he extensively travelled all over the world and visited all museums, art fairs and exhibitions of Europe. He also stayed in Italy for four weeks during his visit to the Venice Biennale in the year 2015. He has experimented with the various art mediums, trying out different genres, and themes. As a result of his wholehearted devotion to fine arts, he has build up a large 'oeuvre', and feels that he is now ready for many future exhibitions.
Education
B.Com. Hons from Delhi University.
Group Shows
» At Lady Fatima School in Aligarh in the years 1960-65.
» At Cambridge School as a student in the years 1965- 1970.
» Group Exhibition City Centre, Antwerp, Belgium; 2011,2012,2013
» 'Art for a Cause' for the 'Prime Minister's National Relief Fund'; (Jammu & Kashmir and Andhra Pradesh Relief Fund); organized by the Lalit Kala Akademi, at the Rabindra Bhawan Galleries, New Delhi; October-November, 2014.
» TAVALE IMBANDITE - "Presenting Art through food", at the Expo Milan, Italy; June, 2015.
» Narrative movements & Facts foundation (Post Contemporary Wave) Group Exhibition-2016, Hooghly, West Bengal.
» "Festival of Art" by Hope Foundation at Vasant Continental in February, 2016.
» Narrative movements & Facts Foundation Group Exhibition- "Post Contemporary Wave-2" in June 2016 at Sehalai, Santiniketan, West Bengal, India.
» Group Exhibition "Colours of Life" by Art mall, in July 2016 @ India Habitat Centre, Lodhi Road, New Delhi, India.
» Exhibited at the Group show organized by Audacious Art Group @ Gandhi Art Gallery, New Delhi from 18th- 20th August 2016.
» "Art Maestro Award & Exhibition" a group show from 28th August- 7th September 2016 @ Darbar Art Gallery, Ernakulam, Kochi.
» "Global Literary Festival"- A Group Art Show organized by International Chamber of Media & Entertainment Industry & Asian Academy of Arts from 22-24 September 2016 @ Marwah Studio, Film City, Noida.
» Exhibited at the "Post Contemporary Wave" a group show in Turkey in October 2016.
Solo Exhibitions
» At "Zorba the Buddha" in New Delhi in the years 2011, 2012, 2013.
» At "2nd International CBSE-Life Skill Values", Gender School Health Summit- 16th-18th December, 2013 at National Bal Bhawan, Kotla Road, New Delhi.
» At "CBSE- The National Life Skills Value Education Summit" at Summer Field School, New Delhi in the years 2014-2015.
» At "International Summit organized by 'Expressions India' on Adolescent Life Skills, Value, Gender and School Well Being" at Summer Field School, New Delhi in 2015.
» At Rabindra Bhawan, Lalit Kala Akademi, New Delhi in the years 2014, 2015.
Participations
» Conducted Art Competitions and its Jury in various schools under CBSE and colleges on national and international level (2012-2015).
» Participated in painting demonstration & lecture in various places of Europe from the year 2011-2015.
» Participated in the Oxford International Art Fair- 2016, from 26th – 28th February, 2016.
» Participated at the Global Exhibition on Services- 2016, from 21-23 April, 2016.
» Enrolled for Participation in International Art Contest - • Arte Lugana Prize, Venice 2016 • International Art in Friesland-2016, Holland • Biennale Rivera Del Brenta, Italy • Triennale Competetion, Italy.
Awards:
» Awarded by the Ministry of Cultrue, Delhi Police & Megh Mandal Organization in Chitrakar Samman Samaroh "Chitranjali" dated 20 th June 2022.
» Awarded with Senior Fellowship by Ministry of Cultrue under the Scheme of "Award of Senior /Junior Fellowship" dated 21-12-2022.
» Awarded by the National Book Trust of India, for one of his artworks as the cover page image for their upcoming book "Navlekhan, GujratiVartaon", by Yogesh Joshi, released at the International Book Fair, 2016, at New Delhi.
» Recognized in the Ist International Art in Friesland art competition, Netherlands.
» Art works has been selected by the Art Box Project Basel 1.0 2017 in semi finalist. "THE ETERNAL CITY- HARIDWAR".
» Art work has been selected by the Galerie Art Eterne, Confluence'16, 2017 for a Promising Artist Award. "Temple Town – Banaras".
Charity & Fundraising: "ART FOR A CAUSE"
» Contributed the canvas acrylic collage titled as "The Learning Tree" to the International NGO Pratham, Austin-Texas to be auctioned on their Gala Dinner for fund raising in September 2016.
Residency:
Participated in the International Artist Residency from 13-20 October,2016 organised by Narrative Movements in association with Chitrashala, a unit of Justa Hotels & Resorts at Lake Nahargarh Palace, Chittorgarh, India.
Studio 21 is the working atelier of the artist, Sailesh Sanghvi. Here, on most working days he can be seen, involved in creating his art-works, immersed in a scattering of canvas, colours and other paraphernalia, needed by the artist. A favourite medium of the artist is collage, which involves a lot of craftwork too. Working alongside him are many art-students, whom he encourages and allows the use of his atelier space and materials for making their own works. The artist has a future vision of building a studio-space in the suburbia, where young, upcoming artists can work peacefully, and also exhibit their art; a kind of art residency. Most of his framing and stretching is done in-house; as a result, Studio 21 is always abuzz with activities and people.